The intelligent Query Builder for the controls of your IS security policy on SAP
The IS security policy must cover all data, programs, systems, facilities, infrastructure, users, third-parties of an organization.
The security of Information Systems must be studied in such a way that it does not prevent users from doing what they need to do, what they are authorized to do, and so that they can use the information system with complete confidence.
It is therefore necessary to define an IS security policy as well as its technical declination on SAP, which will make it possible to configure SAP systems in such a way that they enforce the security policy.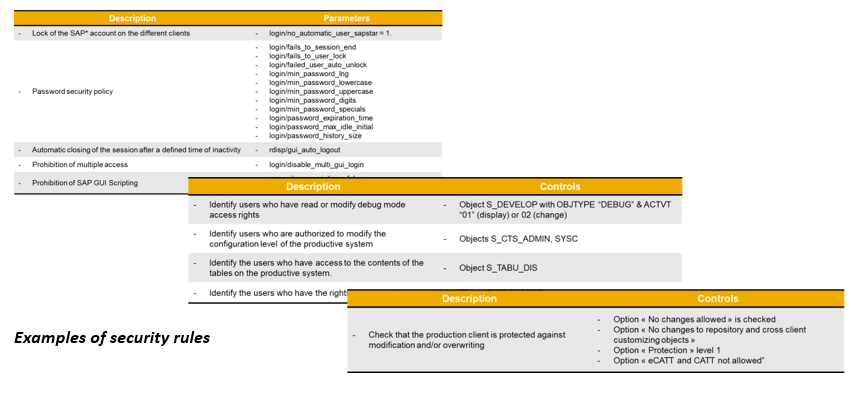 There is a way to check that the configuration of your SAP systems is in accordance with your rules. You can use SAP Solution Manager to do this.
Indeed, SAP Solution Manager collects all the configuration data of the systems and stores them in a database called CCDB (Configuration & Change Database).
Configuration Validation is the standard query builder provided by SAP that allows you to use the data from the CCDB to check whether an SAP system is configured consistently according to certain requirements.
And Ovee. Security Checks comes in.
Ovee. Security Checks is an intelligent query builder on the CCDB allowing to overcome certain limits of the standard. The solution can be used as a complement or as a stand-alone extension to implement your security policy enforcement controls.
The tool allows you to add:
the possibility to build complex rules with combinations of controls (use of AND/OR operators between verified parameters),
the creation of reusable templates to classify control types by category,
control execution histories,
A library of pre-built rules (based on our experience feedback and used as a configuration accelerator),
A more intuitive and modern interface offering a better user experience.
Ovee. Security Checks is a Fiori application available « On-premise » or on our Ovee. Services SCP platform. (SaaS)
Bilel Othman
Product Manager at Ovee.