New Partnership between Tricentis and SAP
Today, this information is a small revolution in the world of "Test Management" of SAP solutions. The software publisher has just announced a partnership with Tricentis, one of the leaders in test orchestration and automation solutions for the IT world.
As indicated by Gartner, Tricentis has grown steadily over the last 10 years to become one of the market leaders
This news has a direct impact on SAP's « Test Suite » offer on its ALM platform SAP Solution Manager. Indeed, as part of its  » Enterprise Support  » contract (*), SAP will allow you to use the Tricentis TOSCA robot to automate your regression tests of your SAP applications without any additional license cost. (*or PSLE/ MaxAttention)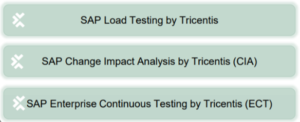 SAP also becomes a reseller of licenses of other Tricentis products to cover needs not covered by SAP Solution Manager (e.g. Load Testing for performance testing).
Orchestration of automated tests recorded by TOSCA has long been a feature of the Test Suite of SAP Solution Manager, but the integration was not very used because the use of Tricentis robots required an additional license cost. Customers using the Test Suite on a purely SAP perimeter then preferred the CBTA robot published by SAP and offered without additional license cost.
Now customers will be able to choose between two robots offered at no extra license cost.
Of course, it is still possible to integrate other robots with SAP Solution Manager (such as MicroFocus UFT or Worksoft) with the purchase of a robot license and it must be emphasized that the free use of TOSCA is limited to a purely SAP scope. 
The TOSCA robot installation binaries are announced to be available from Q1 2021 via the SAP marketplace.
This will open up new perspectives because many new SAP technologies, used for example for cloud solutions such as SAP Ariba or SAP Success Factor, were not covered by the CBTA tool, but are covered by TOSCA.
But what about your investment in CBTA ?
They are not lost, SAP guarantees the maintenance of its robot until 2027, however, there will be no new technologies supported, but all your automated test cases will work and be maintainable until the end of the maintenance of SAP Solution Manager 7.2.
From then on, a new question is raised, which tool should I choose in the context of my company? It all depends on your level of maturity on CBTA, the skills you have and the technologies you will use today and in the future.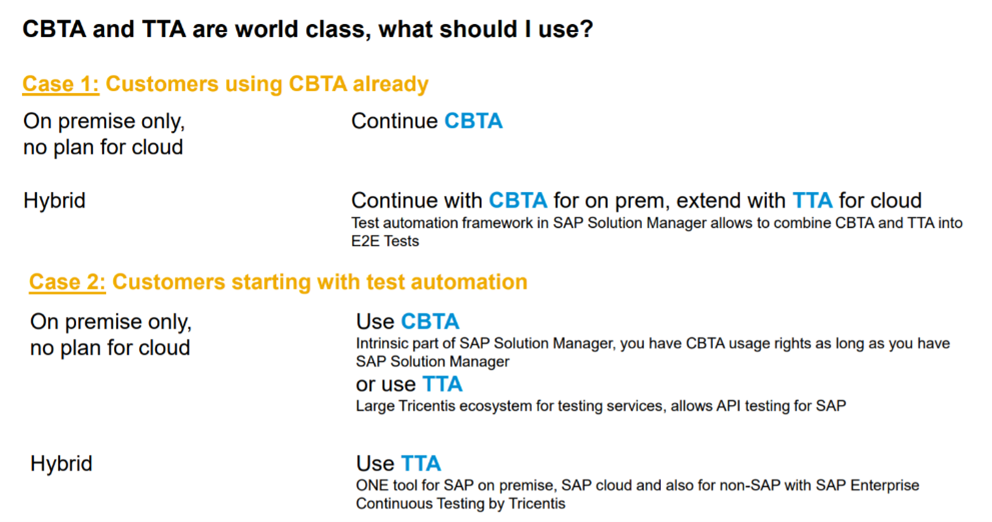 In any case, your automated test cases will always be referenced, orchestrated and executed through your SAP Solution Manager.
If you are interested in this information, and would like to know more, please do not hesitate to contact us.
Clément Pillevesse.
ALM Consultant at Ovee.